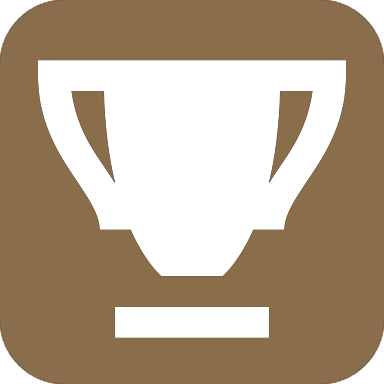 Sigma Nu was awarded the Regent's Award for Academic Excellence. This award is given to the chapters that have achieved the highest GPA among fraternities on their campus during the 2022 calendar year.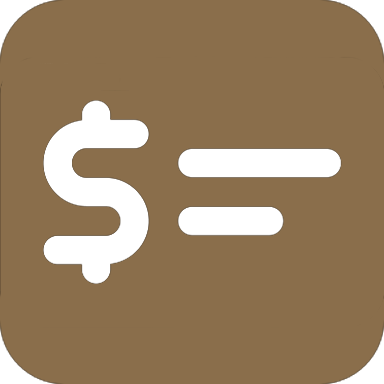 Sigma Nu also achieved the Top Donating Organization for the 2022-2023 school year for their Philanthropy through their partnership with the Helping Hands Network.  The Chapter raised $21,275 in donations that was given to the Almost Home Kids Program.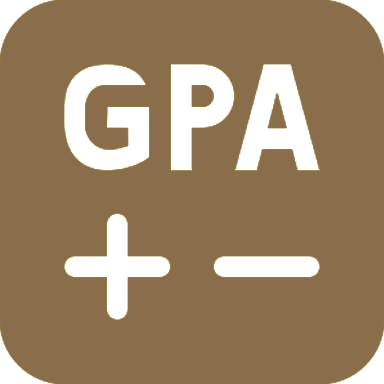 Sigma Nu was awarded the Top Fraternity GPA on campus for the 2022-2023 school year earning a 3.30 cumulative average.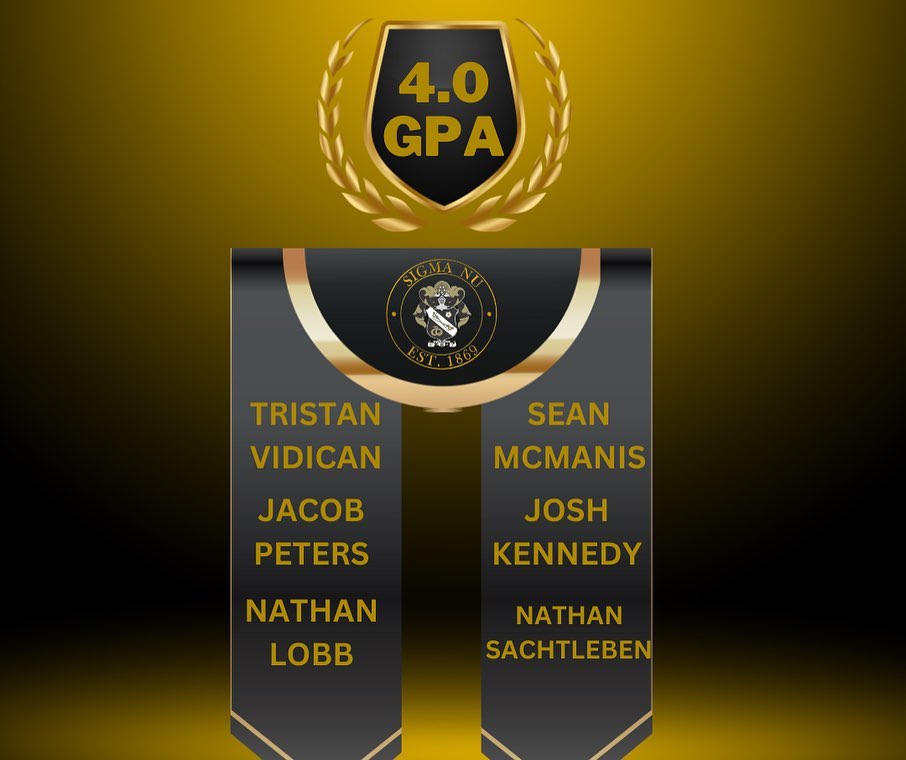 Celebrating academic excellence! We are pleased to report that the Zeta Phi chapter of Sigma Nu at Bradley University has the highest GPA of all fraternities. Congratulations to our seventeen Sigma Nu brothers who have been named to the Dean's List. All listed names received a 3.5 or higher! Academic excellence continues to be a priority for us! Your diligence, commitment, and intellectual ability have earned you this well-deserved recognition.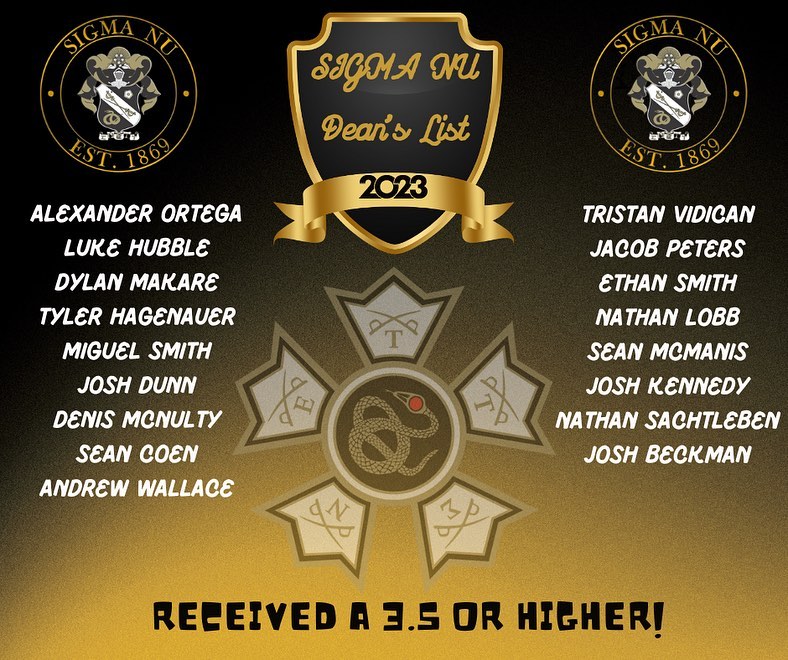 Sigma Nu Fraternity Renovation
Update: We have completed Phase I and Phase II of the Building Campaign at a cost of approximately $1,200,000 completely debt free due to the generosity of 82 alumni donors. The interior of the fraternity has been completely renovated along with a new front entry and porch. We are now focused on Phase III at an estimated cost of $800,000. Phase III will enclose what we all remember as the "Pit" with two stories of desperately needed additional space. This final phase is tentatively scheduled for the Summer of 2024, but we need additional alumni to assist in our efforts.
Founders' | $500,000 and above
Legion of Honor  | $250,000 to $499,000
1869 Society | $100,000 to $249,999
White Rose | $50,000 to $99,999
Zeta Phi | $25,000 to $49,999
Knight | $10,000 to $14,999
1300 Fredonia | $5,000 to $9,999
Brotherhood | $2,500 to $4,999
Campaign Donor | $1,000 to $2,499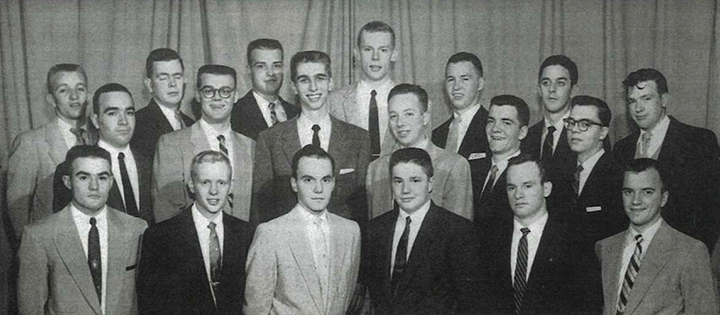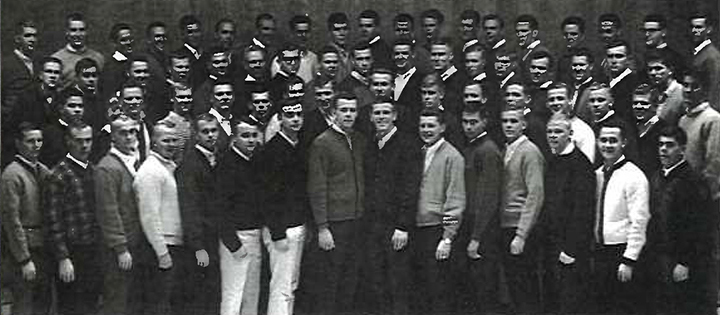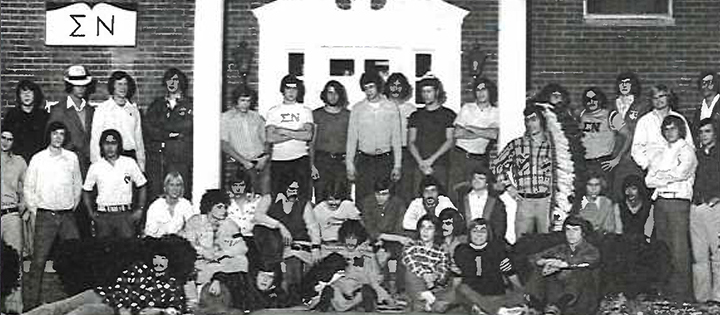 Since our founding in 1955, Zeta Phi has maintained a legacy of excellence unparalleled at Bradley University. Few fraternities there have been able to compete with the heritage of Zeta Phi. Sigma Nu brothers have been among the top campus and community leaders for decades. Our members have served as presidents or officers in the student senate, the inter-fraternity council, and many other campus organizations.
ΣN alumni across the country carry a rich history of national prominence in the industry, business, government, education, the military, and entertainment. They have been pillars of the Bradley and Peoria community and in communities across the country where they live. Sigma Nu alumni have led successful professional careers and shaped communities around the country with the values they forged as students at Bradley.
Perhaps more significant than the leadership skills learned are the lifelong friendships we have all made. Sigma Nu has always drawn men from different backgrounds and united them in an everlasting brotherhood. These bonds remain strong because we shared much together—in the classroom, on campus, in sports and in the house.
Our home at 1300 W. Fredonia has been the center of personal growth and development for nearly 60 years. We have benefited from the generosity of those brothers who preceded us. Now it is our turn and obligation to support the next generation of Zeta Phi's. With our proud history, it is time to look to the future. We invite you to join this effort in "The Campaign for Zeta Phi!"
In 1963, Sigma Nu leaders built a chapter house at the entrance of Bradley's Greek row. Today, this prime location remains the envy of fraternities at Bradley University.
While our chapter house has provided a "home away from home" for almost six decades, the ΣN house is in poor condition.
To remain the premier fraternity at Bradley and to provide desirable housing for the next generation of Sigma Nu leaders, Zeta Phi must now invest in modernizing and renovating the current structure.
The need for safe and modern academic and living space has never been greater. We must compete with updated residence halls and new off-campus apartment buildings. These options attract prospective pledges away from Sigmas Nu and highlight the need for Zeta Phi to have modern, competitive house.
For Sigma Nu to excel in the future, we must completely renovate the existing house. While some updates have already taken place, with your help, we must move forward with an exciting, newly-renovated house to ensure Sigma Nu remains the best fraternity on Bradley's campus.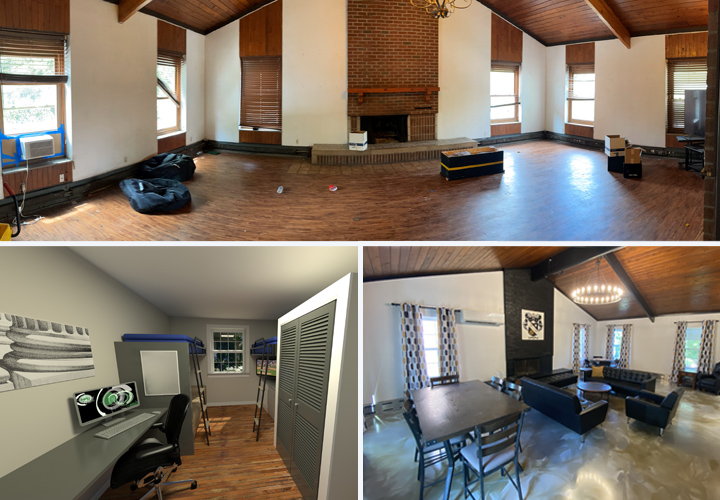 The Zeta Phi Housing Corporation has finalized plans for a fully renovated fraternity house.
We will completely renovate the entire house, add a new front entry on Fredonia, and add a new 2 story extension by enclosing the back pit area. All rooms, bathrooms, windows, and doors will be redesigned and upgraded. The design will focus on long-term maintenance and livability issues using the latest technologies, incuding green energy solutions, and will be fully compliant with the Americans with Disabilities Act (ADA).
Each floor includes study rooms for large and small group study. The Scholarship Room will include a computer lab equipped with state-of-the-art networking technology and space for group presentations. Additional space will be available for small and large meetings with alumni and undergraduate committees. Sleeping capacity for the house will increase from 28 to 30 men.
These renovations will separate Sigma Nu from all fraternities, enhance our partnership with the university, and attract the best and brightest young men at Bradley.
To date, $1,200,000 has been raised by a core group of 82 alumni toward the goal of $2,000,000.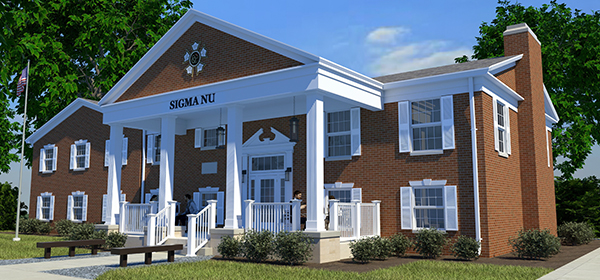 • Design and Site Prep




• Construction-Renovation


• Furnishings and Equipment
► Total Project Budget
► Funds Secured To Date


► Funds Needed

$86,000
$1,844,000
$70,000
$2,000,000
$1,200,000
$800,000
RENOVATION UPGRADES – UPPER LEVEL
RENOVATION UPGRADES – LOWER LEVEL
New front entry on Fredonia

New 2-story addition on back of house

New windows throughout

Large and small group study rooms

Computer lab with state-of-the art networking technology

Meeting space for alumni and undergraduate committees

Sleeping capacity will increase from 28 to 30 men

New bathrooms

ADA Compliant
Additional square footage with an enclosed, 2-story addition over the old pit area

Parking for multiple vehicles

Full ADA compliance

Fire suppression system throughout the house

Dedicated Chapter room

Full security system

Dining facilities and kitchen

Laundry facility
Our partnership with Bradley University provides a benefit to all ΣN alumni and supporters. All gifts are made directly to Bradley University, a 501(c)3 charitable organization, designated to the Sigma Nu Building fund. Gifts are tax deductible and will be acknowledged by the university in a letter.
MATCHING GIFTS, GIFTS OF SECURITIES, AND IRA CHARITABLE ROLLOVERS
If your employer offers a matching gift program, your gift may be eligible. Gifts of securities and IRA charitable rollovers (for alumni 70½ or older) are encouraged as there are significant tax advantages to the donor. For professional advice, please consult your tax advisor. Bradley University EIN #37-0661494
Gifts and pledges can be made as a one-time gift or spread over a two-year period. Gifts can be made via check.
MAKE CHECKS PAYABLE
AND MAIL TO:
Bradley University, Office of Development
1501 W. Bradley Ave.
Peoria, IL 61625-0001
(Memo: Sigma Nu Campaign)

RECOGNIZING LOYAL SIGMA NUS
All donors contributing $1,000 or more will be recognized on a prominently displayed plaque in the chapter house. Special naming opportunities are available to alumni offering a gift of $25,000 and above. Gifts in memory of brothers and family members are welcomed.
Your investment in the Sigma Nu project will ensure the future success of Sigma Nu. Fraternities continue to play a vital role in the development of young men.
Today, more than ever, it is important we provide young college men with a group-living environment that offers a solid foundation for their education, and offers opportunities for the development of leadership, teamwork, and social skills.
Sigma Nu brothers have already made a commitment to work hard to maintain the programs and traditions that have benefited the lives of so many alumni over the past 6 decades. Together, the ΣN chapter members, the Campaign Committee and the Housing Corporation are all committed, with Bradley, to complete the major renovation of the Sigma Nu house.
Each of us have benefited from the generosity, work, and sacrifice of those who established Sigma Nu and built our current house. We have all enjoyed the brotherhood that Sigma Nu has provided during our years at Bradley. Now it is our turn to step up and support the financial challenge associated with this project, ensuring that the same valuable experience we enjoyed is available for those who follow us. Over 1,300 Sigma Nu's have been activated at Bradley.
We urge your thoughtful consideration to make a gift at this time. With your support, Zeta Phi will continue to provide an environment that develops and supports outstanding young men with the skills and confidence to face an ever-changing world. The commitment we make today cannot be underestimated—it will have a significant effect on the lives of future Bradley University Sigma Nu men for years to come.